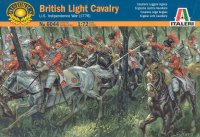 (plasticsoldierreview.com)
Specifically, the 17th Light Dragoons served in North America during the American Revolution. After many years, I found a box of these figures in Japan. I have painted them and used them on several different occasions as shown in previous posts.
(photo courtsey of The Brigade of the American Revolution)
The 16th Light Dragoons (photo courtsey of artist) eventually became dismounted and acted as light infantry.

(plasticsoldierreview)