The vast majority of my 18th century highland figures are metal, but I have converted Airfix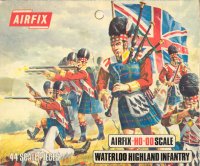 (www.plasticsoldierreview.com

Waterloo Highlanders while in Japan.
I have blogged previously about my Jacobite highlanders and some of the highland regiments, but this blog will go into a bit more detail on the regiments and campaigns.
Below are RAFM French and Indian War Highlanders. I purchased these figures from 1989-1992. They were too heavy for me to bring back to Japan, so remain in storage in Nova Scotia.
Bonnet companies(rafm.com) I have painted these as 42nd and 84th Regiments.
Grenadier companies: I painted as 78th Fraser's Highlanders
Command figures. All my highland regiments have these.
These are Gorham's Rangers, but I painted these as Highlander Light infantry. For all of my regiments.
So far, my metal figures depict the 78th Fraser's Highlanders, 42nd Royal Highland Regiment, The Black Watch and 77th Montgommery Highlanders.
My 77th are made from the figures below.
www.oldgloryminatures.com